Product Description
The AlcoHAWK Elite Slim Digital Breath Alcohol Detector, built on quality and performance, has a professional feel and sleek consumer appearance! Operating on a single button, simply blow into the folding mouthpiece for an accurate BAC reading in seconds. The AlcoHAWK Elite Slim also includes removable mouthpiece covers that allow you to test multiple individuals in a sanitary fashion. This unit is equipped with rounded corners and a bright blue back-lit LCD display. The sleek design makes the AlcoHAWK Elite Slim very compact and easy to carry. It is the ideal solution for someone looking for a portable tester with professional quality with a consumer design and feel. Meets DOT/NHTSA Model Specifications for Breath Alcohol Screeners.
Directions:
Quick, easy and accurate breath alcohol testing is at your fingertips! The AlcoHAWK Elite Slim operates upon pushing the tap-proof power button for testing in seconds. After turning on the unit the breathalyzer will count down while it warms up or 'primes' the sensor for testing. The unit will give an audible beep and the enduser will take a deep breath and blow SLOW and STEADY for 5 seconds as the unit will give a second beep to signal completion of the testing. In seconds, the unit wilI give the BAC measurement from 0.00 to 0.40% BAC.
Features:
Pre-calibrated in the USA prior to shipment.
FDA 510(k) Cleared and DOT Cleared as a Breath Alcohol Screening Device.
Folding Mouthpiece design: Mouthpieces are absolutely necessary to focus the deep lung breath sample over the sensor and obtain the most accurate results. With the innovative folding mouthpiece design you can have the best of both worlds - no ambient air skewing the test results and no need to buy additional mouthpieces. If needed, additional mouthpiece covers are available for sanitary testing of multiple people.
Wide Test Range Measures Blood Alcohol Content from 0.00 - 0.40%BAC. 3-digit bright blue LCD display makes test results easy to view any time of day or night.
One Button Operation for Fast and Easy Testing. Simply push the power button and begin testing in seconds.
Smallest and sleekest of the AlcoHAWK models -featuring rounded corners, 2-tone silver and black UV high-gloss finish. Small and Portable to take anywhere and easily fits into a pocket, purse or glove compartment.
Electric Air Flow Sensor: The AlcoHAWK Elite Slim contains an electronic airflow sensor to ensure the user continues to blow through the unit. This is a vital new function because only samples of air from the deep lung are proportionate to blood alcohol content. This new innovative sensor ensures the user exhales through the mouthpiece over the 4-5 second exhale. This is an important feature for professional screening to prevent an intentional short exhale which could affect accuracy.
Sample Concentration Sensor: The AlcoHAWK Elite Slim contains a software upgrade to allow the unit to track if an even alcohol concentration is detected in the sample. This cutting-edge technology provides another method of ensuring breath sample integrity.
Sensor Recognition Technology: Monitors for certain types of abnormal sensor conditions.
Temperature reading will display each time the unit is turned on. To obtain the most accurate test results the operating temperature should be 10-40⁰C (50-104⁰F).
Test counter keeps track of the number of tests performed on the unit.
Important Information:
This breath alcohol tester is intended to measure alcohol in human breath. Readings from this device are used to determine alcohol intoxication.
Individuals should not drink alcohol and drive
Choking hazard alert – Mouthpiece covers
AlcoHAWK Elite Slim unit includes three mouthpieces, owner's manual, quick start guide, and a 1 year warranty.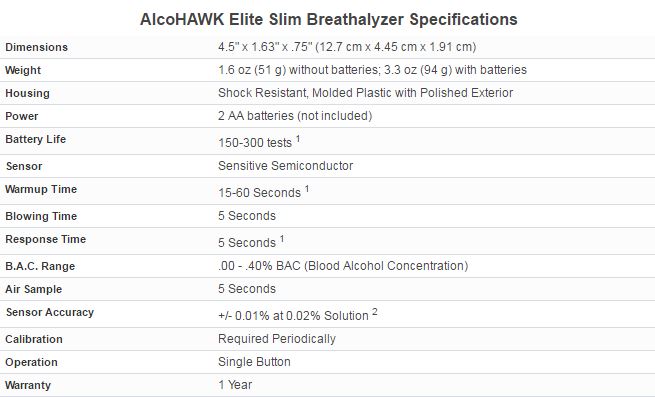 Reviews