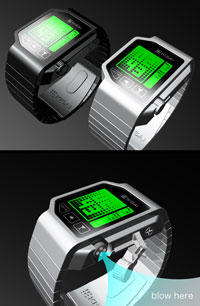 Tokyoflash watch design concept
A new concept from the Tokyoflash Design Studio--a touch screen LCD watch design that does much more than simply tell you the time. It also gives an indication of your blood alcohol content (BAC) to gauge your level of sobriety.
Not sure if it is more discreet than a handheld breathalyzer since you will be blowing into your watch, an abnormal behavior that may draw the attention of some.
-
Source: Tokyoflash, How Drunk Are You? This LCD Watch Design Will Tell You!

-
Think this is a product worth developing or not? Leave a comment below and let us know.