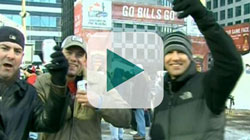 8% of Sports Fans Drunk at Games
A new study published online in the journal Alcoholism: Clinical & Experimental Research, found about 60 per cent of fans surveyed had blew a zero on a breathalyzer, 40 per cent tested positive for alcohol in their blood. In total, 8.4 per cent were legally drunk, with a blood alcohol level higher than .08.
That results in approximately 8% of professional sports fans who agreed to be surveyed were legally drunk when leaving the stadium after a game.
As a precaution, please bring a breathalyzer with you to the game and monitor your alcohol consumption. Be safe and responsible when you are enjoying the game!
Source: CTVNews, http://www.ctv.ca/CTVNews/Health/20110118/drunk-sports-fans-110118/