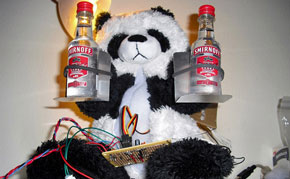 Invented by Joe Saavedra, the SOBEaR is a teddy bear with a built-in Breathalyzer that the user must blow into befire receving a drink. The SOBEaR calculates your BAC and serves an appropriate drink with it's motorized paws; the lower your BAC the higher the ratio of alcohol to mixer it will serve; too high and it gives you straight mixer with no alcohol.
An interesting party idea, but no replacement for a designated driver.
-
Source: Brand X; http://www.thisisbrandx.com/2009/08/let-teddy-pour-you-a-drink-the-bartender-robot.html
-
What are your thoughts?